Let's say you produced a b*nger, placed it on a huge YouTube promo channel and your track got 100k+ streams, tons of positive comments and you think you finally made it.
But then..
..you realize that your socials are still NOT growing (this is actually not uncommon). Just take a look at the latest Trap Nation uploads. You'll notice that some producers with huge tracks still have a small following, while others have hundreds of thousands of fans.
If you want to be part of that second group keep reading 😉
Download Gates
A download gate allows you to share downloads of your music in return for likes, reposts, comments and followers. So if a potential fan listens to your song on a YouTube channel for example, you can offer to download the track for free, in return for a Instagram follow.
If you do NOT offer an option like this, there's a good chance the potential fan will click on the next thumbnail and will forget about you in seconds.
There are plenty of website allowing you to create these kind of download gates (some call them fan gates). I've literally tested every one of them for a while and eventually ended up using Hypeddit.
It looks stunning, is cheap, easy to use and has (at least in my opinion) the best features. You can start with the free plan, but I'd recommend to upgrade straight to the pro plan (only $9/month) so you can take advantage of the full functionality.
If you think that this isn't worth the money look at it this way: If you get only one small booking after 1 year using Hypeddit, you already made a profit (+ a lot of new followers).
Smart Links
Another great tool by Hypeddit are so called smart links. They give your fans one-click access to your music on any store and platform. This is how they look like in action: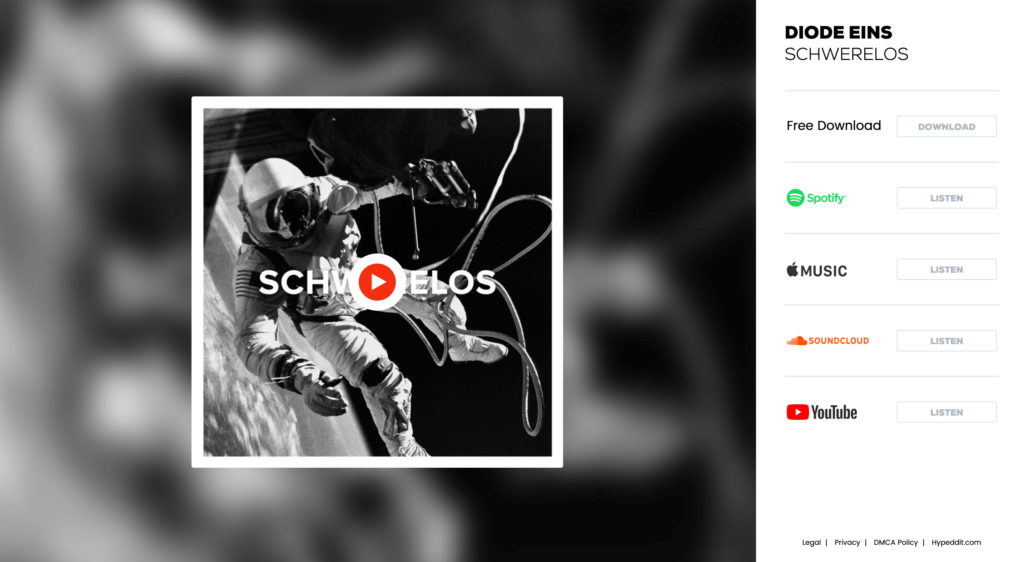 The cool thing is that you can redirect your listeners with one link to all platforms + the download gate. Now all you have to do is placing this link in the track's description with a caption like "Stream/Download:".
You even have the option to embed your Facebook pixel so you can run targeted ad campaigns (but I'll cover this in another post).
Take action
Since knowledge is worth nothing if you don't take action, I want to end this post with a step-by-step plan. The sooner you start the sooner you'll grow your fanbase:
STEP 01:
Sign up for a Hypeddit account and create download gates for all of your tracks.
STEP 02:
Now create smart links for all of your tracks (don't forget to add the free download links).
STEP 03:
Add those smart links with a caption like "Download/Stream:" to all of your SoundCloud and YouTube descriptions.
STEP 04:
If your tracks already got featured on YT channels etc. ask them kindly to add the smart link to these descriptions, too.
STEP 05:
Every time you release a new song make sure to create a smart link + download gate before promoting it. If you get a placement on a YouTube channel, blog, tastemaker or whatever ask them to include this link!
If you've done everything right your socials should start to grow straight away.
Hope this helps!