The TAL NoiseMaker is a free 80s synth VST, which comes with a huge collection of great sounding presets. Since its oscillators are based on basic shapes and the overall structure resembles hardware synthesizers it's great for creating all kinds of analog sounds.
Download the TAL NoiseMaker for free via tal-software.com.
Overview
Once you downloaded and opened up the NoiseMaker you'll notice that it's divided into the 4 main sections: "Synth 1", "Synth 2", "Envelope Editor" and "Control". All of those sections can be hidden and shown by clicking on the corresponding headlines.
Synth 1
The first section starts with a LFO, 2 oscillators and the master area, which contains an additional sub osc, volume controls, a ring modulator, voice- and portamento settings.
Synth 2
Synth 2 starts again with a LFO (which seems to have exactly the same functionality as the first one), a filter with 11 different curves and controls for attack, decay, sustain and release.
Envelope Editor
What really surprised me positively is the envelope editor, which reminds me a bit of Serum's LFOs. You can basically draw any kind of curve and map it to a bunch of parameters.
Control Area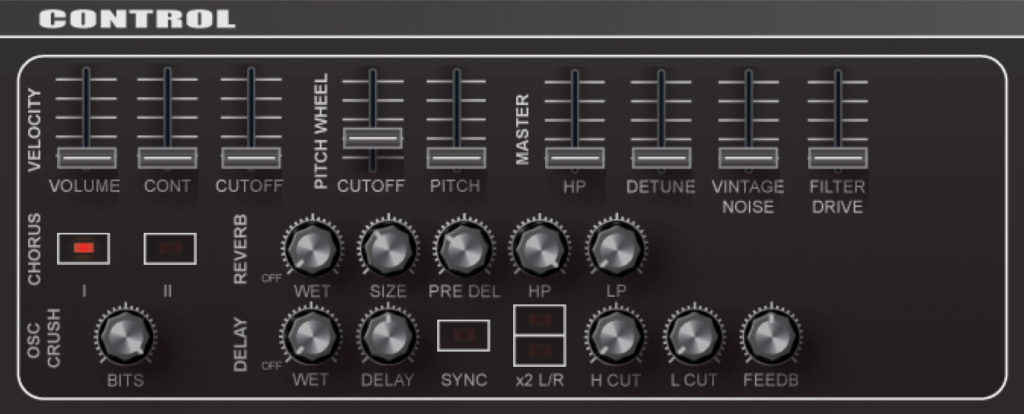 The final part of the plugin is the control area. This is the place where you can adjust velocity settings, the pitch wheel behavior and get access to some useful master effects that can really help to further shape the sound. They include a high-pass filter, a global detune fader, vintage noise, filter drive, 2 chorus algorithms, a crusher, a great reverb and delay.
Usability & Workflow
Since I already work with a few synths I figured out how the NoiseMaker works quite fast. Everything is labeled practical and if you have a basic understanding of sound design you'll easily figure everything out. What I personally like is that the TAL team picked names like OSC, LFO & Filter etc, instead of VCF and VCO. This way producers who are used to work with modern synths, like Serum, have it easier getting used to the "analog" layout.
The only workflow feature I actually miss is the ability to reset parameters by "cmd + click" or double click. It always saves a lot of time when developers think about small details like this.
The TAL NoiseMaker is a great mixture between modern and analog synthesizers. Therefore the plugin is a suitable tool for transitioning from one to another.
TAL NoiseMaker Presets
The overall sound quality is really high and since the NoiseMaker already includes plenty of useful effects you can basically create all kinds of sounds. It further comes with a huge list of presets, which are – due to the analog style of the synth – especially suitable for genres like Synthwave or Old School House.
HINT: I installed the AU and VST versions, but could only load stock presets using VST.
Conclusion
After testing the TAL NoiseMaker for a few hours, playing around with all the different parameters and browsing the patches I eventually came up with this pro and contra list.
Pro
It's 100% free to download (no registration required)
Sounds pretty decent & looks clean
Comes with basically everything you need to make basic sounds
Has a really cool envelop editor
Easy to understand (for people with basic sound design skills)
There are plenty of good sounding presets included
Contra
CMD + Click doesn't reset parameters (not a big deal)
So.. if this review sparked your interest and you're looking for another cool synth just go ahead, download the plugin and try it out on your own. It's available for Mac & Windows users and comes in a bunch of different formats, including VST, VST3, AU & AAX.